Gas Cylinder Labels
Because gas cylinders must be properly tested and maintained on a regular basis, the use of bar code labels that automate the data collection process are essential. Sequential barcode labels from Watson Label Products accomplish this goal by providing unique numbers that identify each cylinder so that they can be tracked in an efficient and cost-effective manner. Gas cylinders are often transported regularly and stored in less than ideal conditions, so the label's construction must be as tough as the environment in which they will live.
Applications
Gas cylinder labels
Oxygen tank labels
Propane tank labels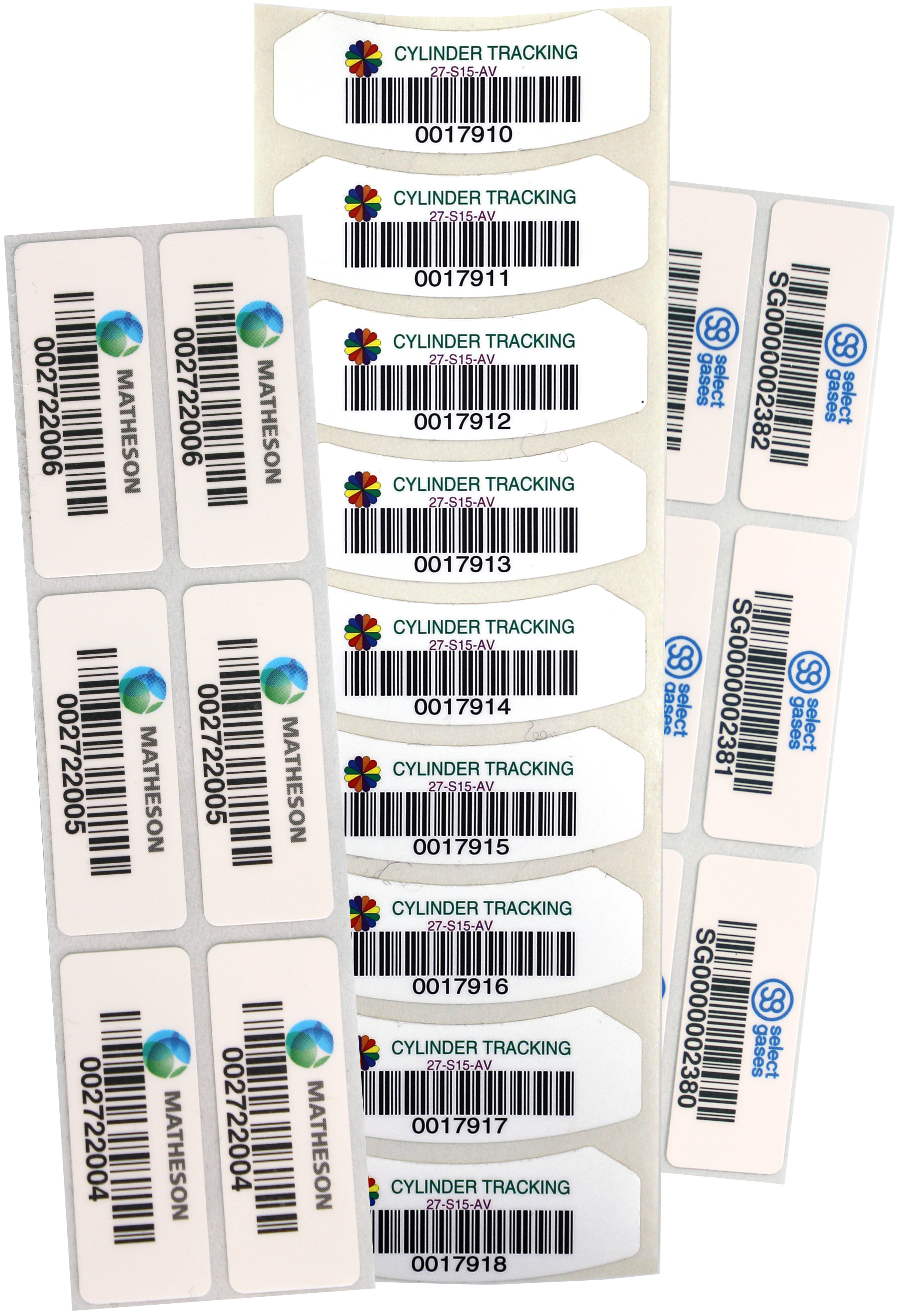 Typical Features
The durable construction of our gas cylinder labels ensures a clean, scannable image for years of accurate reads. Most of the gas cylinder labels we manufacture utilize a high-contrast, white, opaque polyester film facestock and durable film laminate that provide the following benefits:
Withstands physical abrasion
and scuffing
Resists yellowing and
cracking for years
Resists solvents and harsh
chemicals
Withstands high temperatures
and ultraviolet light
Performs in humid
environments
Resists oil, grease, solvents
and caustic cleaners
Die Cut for Improved Performance
For labels that will be affixed to the top of the cylinder, we will often die cut them in a crescent shape to allow them to conform to the curved shoulder of the cylinder. Designing the label in this shape makes application easy and minimizes wrinkles and gaps that often cause failure.

Customer Spotlight

When we made the decision to barcode our cylinders and dry ice boxes, it was the biggest project we had ever attempted in our company. We chose Watson Label Products to produce our barcodes and have never had any issues. Over the years, they have been very easy to deal with when we have needed to update our labels or order new ones. We appreciate their customer first approach that has helped us barcode over 650,000 cylinders and dry ice boxes to date."

Protective Label Shields
Extend the life of your existing labels with Watson's protective label shields. These shields are applied over your bar code labels prior to sand blasting or other abrasive processes. Made with high tack yet removable 3M Acrylic adhesive, the shields absorb the force of blasting without disintegrating and come off cleanly. Afterwards, your labels are undamaged and ready to be used again, eliminating the need to relabel.Learn More