Off-Site Storage Labels
Watson Label Products has been helping libraries organize their offsite storage facilities for over 30 years. We know how valuable the space in your library is and how complicated it may seem to put your collection into off-site storage. Through our experience, we understand the most efficient ways to organize floors, aisles, and shelves in an off-site storage facility, allowing you to save space in your library while knowing that your collections will be neat and organized. There are three main types of labels that we use for off-site storage facilities: barcode, height, and shelf labels. This combination of labels helps organize your library's inventory in the most effective manner. We receive a layout of your storage facility, we get an understanding of what your library's needs are, then our team creates a custom plan to fit your specifications.
Applications
Books
Documents
Multimedia
Artwork
Artifacts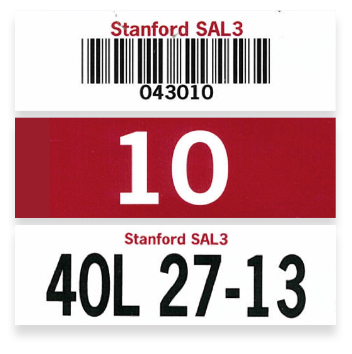 Typical Features
One of the most important features of any off-site storage label is its ability to retain its image quality for many years. All Watson Label Products' labels can be laminated with a variety of materials to protect the original, high quality barcode image. Our off-site storage labels are made to adapt to the unique conditions of your storage facility, regardless of temperature, exposure to cleaners, or any other environmental conditions, ensuring that the image is protected and your assets are clearly labeled for years to come.
Retains image quality for many years

Durable adhesive sticks to a variety of surfaces
Resistant against most industrial strength cleaners