Medical & Diagnostic Equipment Labels 
Keeping track of your equipment is crucial, especially in medical applications. With the use of auto ID technology, your medical and diagnostic equipment will be able to be tracked in an easy and efficient way. By assigning a unique number to each movable item, a database can be created to control the movement, storage, and retrieval of your equipment. The database may list such details as the type of machine, value, depreciable life span, or any other pertinent information. The key is quick, accurate entry and retrieval of data so you can focus your energy on your busy schedule as a medical professional.
Applications
Equipment (mechanical beds, heart monitors, operating room equipment)
Electronics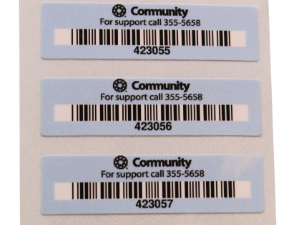 Typical Features
Our Medical & Diagnostic Labels can be relied on for even the most critical of applications. You can depend on Watson's labels to resist a variety of chemicals and cleaners, withstand a variety of temperatures, and retain their image quality and durability for years to come.
Retains image quality for many years
Adhesives that adhere to a
wide variety of surfaces
Resistant to chemicals, solvents,
and cleaning products