Warehouse Rack Labels 
Rack labels are an important tool for finding, maintaining, and inventorying items throughout a warehouse. They must be easily visible and quickly understood. Watson Label Products manufactures custom designed labels to fit the operational requirements at your facility. Watson's label experts will help tailor a label construction to your exact temperature, size, shape and color.
Applications
Warehouse Racks
Warehouse Bins
Warehouse Pallets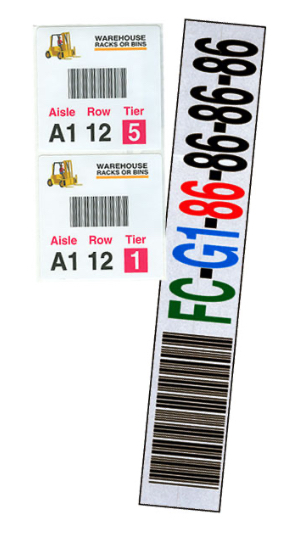 Typical Features
Watson Label Products can produce these labels with an adhesive that meets the requirements of most long-term applications. It offers temperature resistance to 350ºF and excellent solvent resistance. Peel adhesion values are outstanding. The polyester carrier has all the strong durability qualities commonly attributed to this material.
Resistant to high temperatures

Excellent solvent resistance & high-tack adhesive prevents peeling/flaking
Made from durable and long lasting polyester